Acura vehicles are fierce competitors, and the last generation models have impressed many car enthusiasts. Such is the case with the all-new 2022 Acura MDX. Now in its fourth generation, it's sure to please! It's a sport utility vehicle that will give you tons of pleasure behind the wheel, while offering more and more luxury and features that make all the difference.
Acura Montreal Centre in the heart of the city near Laval and Longueuil puts the vehicle at the heart of its Acura blog: reserve your Acura MDX in Montreal without any further delay! Contact your Acura dealer Service Centre or get information online about the specifications, for example, on the Acura MDX towing capacity.
MDX AT ITS BEST!
First, the Japanese manufacturer is banking on driving pleasure, and you can feel it as soon as you activate the engine; a 3.5-liter V6 that develops 290 horsepower and 267 lb-ft of torque. However, it goes beyond power: the automatic transmission is upgraded from 9 to 10 speeds for smoother and more seamless shifts for passengers.
What's more, the all-wheel drive system, which comes standard, is an upgraded version, named SH-AWD: Super Handling for its extreme precision. The car is responsive in both summer and winter, and you can drive it in five modes: Snow, Normal, Comfort, Sport or your own individual mode.
On the outside, aesthetic changes make the car even more attractive, like its longer LED headlights and sportier styling. The wheels, previously 18 inches as standard, are now 19 inches on the base version, and 20 inches on higher versions. Even more customizable and elegant, the car adds two new colours to its palette, Dark Pearl Purple and Liquid Carbon Metallic.
The 7-passenger SUV has also been further expanded, leaving not only more room for passengers, but also for any luggage. The trunk alone has a capacity of up to 512.5 litres; folding down all the rear seats, you get a total maximum cargo capacity of 2690 litres!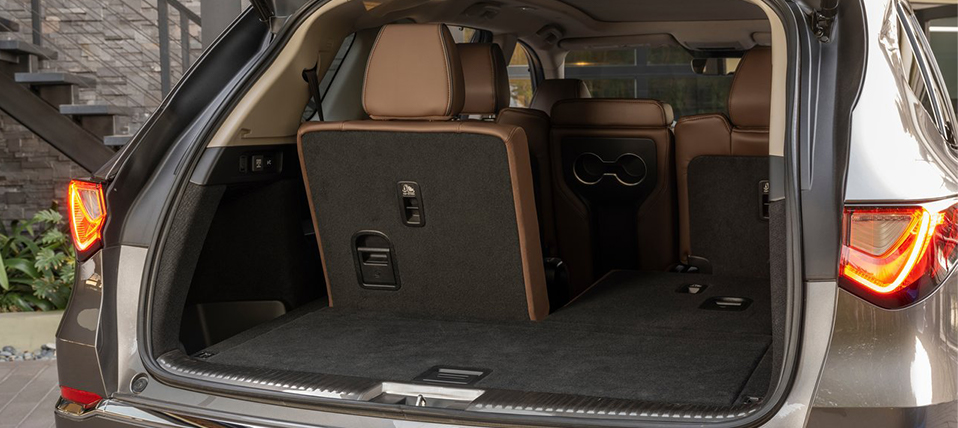 The MDX can carry anything, whether it's a family trip, a weekend away or moving furniture! The towing capacity is up to 2268 kg, which is enough for full-size trailers, making it the ideal car for travellers.
When you step inside, the vehicle makes an impression, especially in the top-of-the-line versions, like the Platinum Elite with its real woodwork. Perforated leather seats, or leather seats with Ultrasuede and contrast stitching in the A-Spec version, will give you that luxurious feeling you expect.
The driver and front passenger get twelve or sixteen-way power adjustments, including four-way lumbar support and heated and even ventilated seats. An immersive experience awaits you with the standard panoramic sunroof, ambient lighting, and premium surround sound system.
In addition, a comprehensive infotainment system, including a large 12.3-inch touchscreen that can connect to Apple CarPlay and Android Auto, is part of it. There are several added conveniences, whether it's Bluetooth, standard wireless charging, or multiple USB outlets in various rows.
True to its reputation, Acura includes several advanced driving assistance technologies, such as traffic jam assistance. Blind spot information, lane departure mitigation, emergency braking with pedestrian detection and many others are also standard.
All in all, the Acura MDX is a successful luxury SUV that will make you want to delay your arrival at any destination: find out more and reserve yours now!
A DREAM TEAM AT ACURA MONTREAL CENTRE!
Come and meet passionate professionals in the heart of the city. They will help you find the best Acura car for you. Choose from avast inventory of new and used cars. Whatever your daily needs, we will be there to guide you in finding your match! What's more, take advantage of exclusive promotional events every season: at Acura Montreal Centre, your luxury car awaits you!