Acura has always done things in the right order. The imminent release of the first all-electric SUV shows once again that the Japanese manufacturer had a nice surprise in store for us.
The 2024 Acura ZDX will not only be a 100% electric SUV, but will also be powerful and efficient. While the first electric vehicles struggled to combine power and range, Acura has succeeded in combining the two masterfully.
Before telling you about Acura ZDX skills, let's say a few words about its silhouette and interior.
---


Styling Worthy of the 21st Century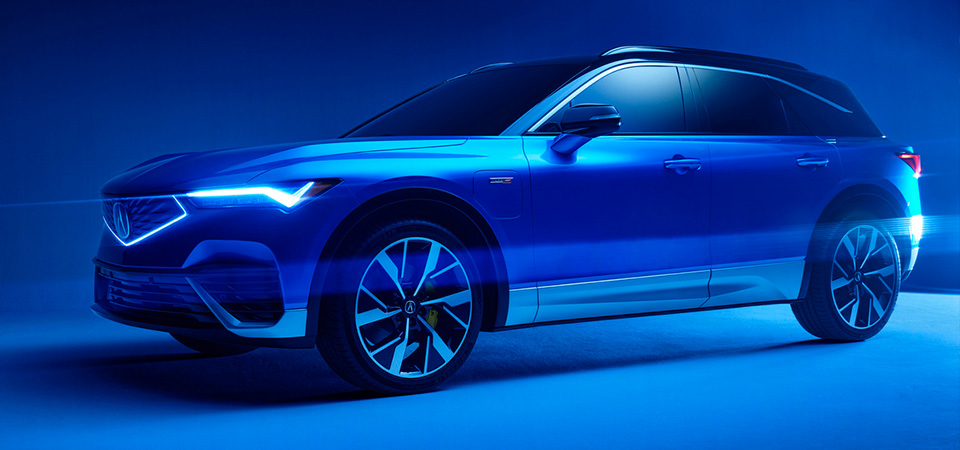 From the outset, the Acura ZDX EV displays the signs of the future of the automobile. With its sleek silhouette, distinctive grille with centered brand logo, elongated Jewel Eye LED headlamps, distinctive front air vents and clear-cut roofline, the Acura ZDX for sale asserts its presence.
The rear of the vehicle imitates the same lamp design as the front, with a contrasting bumper. Upon closer inspection, the ZDX clearly stands out from Acura Canada's current line-up cars.
This is all the more true with its 22-inch aluminum-alloy wheels (ZDX Type S version vs. 20 inches for the ZDX A-Spec version), making it a distinctly sporty-looking SUV.
On board, there are two large screens, 11.0" and 11.2" respectively, one behind the steering wheel for the digital instrument display and the other for the multimedia system.
Another technological feature unveiled is the integration of Google Assistant and Google Play functionalities, as well as the latest version of Google Maps. This will help you find the most optimal route for your journey, as well as the location of Level 3 charging stations on your way. With a high-performance navigation system, you'll be able to choose your own itinerary for your trips and travels.
The Acura ZDX also features wireless Apple CarPlay and Android Auto connectivity, as well as a high-end Bang & Olufsen audio system with 18 speakers. Audiophiles will be well served.


Superior Powertrains
In the A-Spec version, the rear electric motor produces 340 hp and a generous 325 lb-ft of torque. A second electric motor with all-wheel drive is available as an option.
The Acura ZDX Electric will also feature a second, more powerful engine. The Type S version of the Acura ZDX will be equipped with two electric motors connected to a 102-kWh lithium-ion battery, each capable of producing up to 500 hp. Never before has an Acura car been so powerful!
This powertrain can also count on a more strong-willed suspension, with adapted shock absorbers and 6-piston Brembo brakes.
Louis-Philippe Dubé, in Le Guide de l'auto, puts it this way when it comes to range on the road: 
"In terms of range, drivers will be able to cover up to 500 kilometers (estimated) before having to recharge the ZDX. In fact, the brand boasts a recharging power of up to 190 kW on a Level 3 terminal under ideal conditions, which would enable the ZDX to recover around 120 km of range in 10 minutes."
Data like these make it clear that the all-new Acura ZDX electric SUV for sale is powerful and high-performant car. People will want to buy it because it offers the perfect combo of power (500 hp) and increased range (500 km), as well as giving you great sensations; it's estimated that the vehicle will develop from 0-100 km/h in less than 5 seconds!


Dimensions of the 2024 ZDX
At first glance, this 100% electric SUV boasts dimensions more typical of mid-size SUVs:
| | |
| --- | --- |
| Dimensions  | 2024 Acura ZDX |
| Wheelbase | 3,094 mm |
| Length | 5,019 mm |
| Width | 1,994 mm |
| Height | 1,633 mm |
Interestingly, the ZDX is longer than the Acura RDX (4,766 mm), but slightly shorter than the MDX (5,039 mm). On the other hand, the vehicle's wheelbase outperforms the two existing models. As a result, we can expect a roomier cabin and greater stability on the road.
Finally, the 2024 Acura SUV can tow up to 3,500 lbs. It will make your life easier on the move, and will be your best companion all year round.
In closing, you can order your 2024 Acura ZDX at a starting price of over $80,000 (A-Spec version) and over $90,000 (Type S version) this fall, for delivery in the spring of 2024.
---
Come and talk to our passionate team at your Acura dealership, Acura Montréal Centre, in the heart of Montréal, near Laval and Longueuil. Come and discover the full range of Acura cars. A visit is a must!